Scissor Lift Tables - Horizontal Double Scissor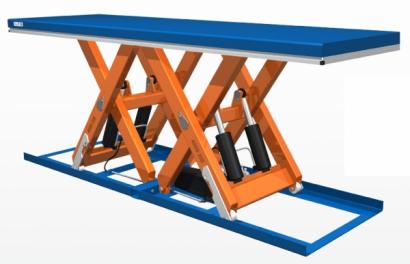 Country of Origin:
Sweden
To handle goods that are both heavy and long you require a scissor lift table with special properties. With EdmoLift's horizontal double scissor lift tables you have the solution at hand. The lift platform is equipped with a combination of two pairs of EdmoLift scissors to obtain the desired lift range and length of the lift table. Lift manoeuvres of the two pairs of scissors are mechanically controlled to achieve a parallel lift operation.
EdmoLift's horizontal double scissor lift tables makes it possible to handle bulky goods in a safe and effective way. With a variety of performances and models we offer a very wide range. The load capacity is between two and ten metric tons, the lift range varies between 820 mm and 2000 mm and the size of the lift table can be as large as 6200 x 1500 mm.
The lift table can be supplied in a variety of different colours designed specifically to suit the wishes of the customer, with a host of accessories and control alternatives. A number of models are available in a more hardwearing format especially suited to intensive operations. Functionality of the product can be increased by way of various accessories such as a mechanical stop and a foot control.
Product features
Lift table load capacity max 10 000 kg.
Lift table platform length from 2600 mm to 6200 mm as a standard model.
Comprehensive program of accessories and possibilities for customizing the lift tables.
Complies with European safety standard EN 1570-1 - CE certified.
24 V DC control unit and operating device with deadman's switch.
IP54 approved electrical system.
Safety spacing between all moving parts of the lift table.
Overload protection.
Adjustable trap prevention safety trip bars on all four sides of the platform.
The lift table is equipped with hose burst valves and mechanical locks for servicing and maintenance.
Maintenance-free bearing surface.
PLC control with possibility to program various functions is included for the standard model. PLC control enables customization for specific requirements.
User manual in 20 different languages.